Each year on the first Saturday of October, Blue Sea Foundation invites small charities from across Canada to participate in what is called the "Ride for Refuge".
Some individuals have a philosophical disagreement with third party work for charities. However, in this age of very competitive markets for charitable donations, it has been the experience of PWRDF Huron that the Ride for Refuge provides an opportunity to make use of technical expertise on the part of Blue Sea, which allows us to reach out for support for PWRDF projects beyond our traditional donor base.
While many traditional church donors may still have a distrust for on-line methods of donor relations, there is a world of good-minded and generous people for whom social media especially is their connection to contribute and be connected to opportunities for the work of justice and development.
A small team, PWRDF Huron, participated in the Ride 2021. "A Light for Every Birth" PWRDF project in Mozambique was the targeted beneficiary for PWRDF teams participating across Canada.
This project provides a source of energy through "solar suitcases" for rural birthing clinics, thereby improving the survival rate of birthing mothers and newborns, which in turn will have long lasting effects on the future for Mozambique. The project also trains local individuals in installation and maintenance techniques.
Since the onset of the COVID pandemic, the annual event has used creativity to expand from the traditional Ride to many other activities.
A team of four individuals in London, ON: Sarah Chase, Rev. Canon Keith Nethery, Rev. Canon Greg Smith and Marque Smith, chose to walk the circuit between the three oldest Anglican church buildings in the downtown London core. Starting from the Gartshore Apartments on Ridout Street South, they made their way first to St. Paul's Cathedral (1845), then on to the former Christ Church (1863) and completed the circle arriving at St. James Westminster (1877). In the historical timeline, these churches are akin to parent, child and grandchild.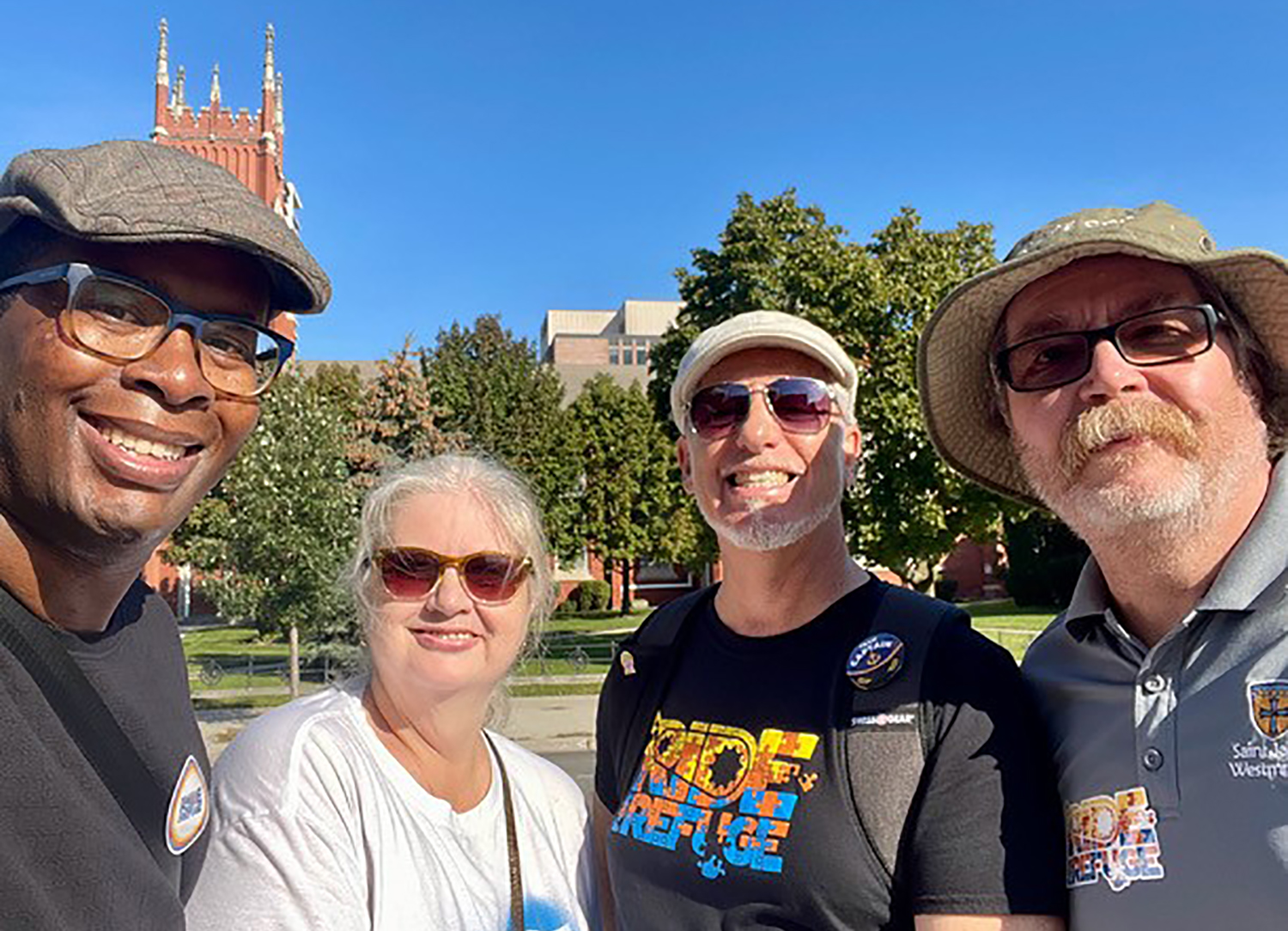 PWRDF Huron team on October 2, 2021 (from left): Marque Smith, Sarah Chase, Greg Smith and Keith Nethery. The team raised $3,715.00. PWRDF teams across Canada raised $44,000.
At the former Christ Church, the team was joined by some members of Joyful Noise, a choir which sings world music, in which both Smith's participate. We heard the Mozambique freedom celebration song, "Ila gi ya Mozambique", and then they provided some marching songs to complete the trek to St. James.
The weather was beautiful, smiles were plentiful and a few individuals learned more about PWRDF along the way. Team PWRDF Huron raised $3715.00. PWRDF teams across Canada raised $44,000. The Ride 2021 event raised $1.8million for charities across Canada.
Each year any community is welcome to form a PWRDF Team for the Ride. Next year local communities might keep it in mind as an outreach opportunity and join in the creativity, exercise, fun and the sense of meaningful participation in a significant ministry of the Anglican Church of Canada.
PWRDF Huron Team