A RICH FALL HARVEST FOR MIGRANT WORKERS IN HURON: Michelle Hauser (AFC), Diane Dance (AFC Huron) and Ven. Tanya Phibbs (representing Bishop of Huron) with Ministry Director Rev. Enrique Martinez (blue shirt, centre) surrounded by volunteers at Wellington and Anderson Parks in Simcoe during the presentation of a $50,000 cheque to the Huron Farmworkers
At the first Farmworkers Appreciation Day, in Simcoe, on September 28 the Huron Farmworkers Ministry (HFM) was presented a $50,000 dollar cheque from the Anglican Foundation of Canada (AFC) for the first Category C grant given by AFC.
The grant was approved at AFC Board meeting on September 14, and is the largest-ever in AFC history.
Category C grants (of up to $50,000) were created by the AFC Board in 2022 to enable AFC to be a more flexible funding partner in cases where a diocese might want to rally around a single transformational project in any given year.
This is a great success for the ministry that started its operations just two years ago. In this short period, it grew to support some 5,000 migrant workers in the Haldimand-Norfolk area of the Diocese of Huron.
It began as a modest drop-in centre in Delhi and very soon gained support from all surrounding Anglican churches that make up the parish of Long Bay – Port Rowan, Woodhouse, Port Ryerse, Turkey Point and Vittoria. Not long after, with the assistance of Trinity Anglican Church in Simcoe, the ministry was able to provide spiritual gatherings and meals each Thursday and Friday. It has recently added dinners at St. John's in Tillsonburg and St. John the Evangelist in Leamington.
"It was our natural response to a pastoral challenge: providing additional support for thousands of foreign workers who otherwise live in isolation across rural Ontario", says HFM Director Rev. Enrique Martinez, who also serves as a priest in the Anglican Parish of Long Bay.
Despite being a vital part of our agricultural industry and food security, migrant farmworkers often struggle to get very basic services, warns Father Enrique.
"We help provide essential supplies such as PPE, clothing and food, but also education with respect to their rights and benefits."
Teaming up with the Toronto-based The Neighbourhood Organization (TNO) gave the ministry necessary access to legal support workers sometimes require. HFM also provides rides to medical appointments and free translation services.
Anglican parishes joining the ministry provide a safe place where workers can feel more like at home. Free WIFI makes contact with their families easier, but it is equally important to have a chance to talk to a friend in their native language, to have someone who is truly willing to listen.
"Mental health is a great challenge among the migrant farmworkers, so these weekly gatherings are much more than a chance to share a meal", says Rev. Martinez.
Father Enrique does not forget his essential pastoral duty:
"These people feel great and genuine spiritual need. This is why I always say that our outreach is more than Social Justice, but is truly an act of Christian Justice", concludes Father Enrique. The fact that weekly services in Spanish in Port Rowan are always full proves his point.
The work of the Ministry has drawn a lot of attention and very positive media coverage. Rev. Martinez confirms that they have received requests to open additional centres across Southern Ontario.
"The need is so great for so many – an estimated 20,000 in our diocese alone!", says Father Enrique, but adds that the Ministry has a long way to go to have enough funds to accomplish this. The AFC grant will certainly help in making the next steps possible: responding to initial request in order to find and train staff that would operate a new centre. It is a complex endeavour but patience and love are the trademarks of this new Huron ministry.
TO FIND OUT MORE VISIT: https://hfwm.org/
SMILES AND BICYCLES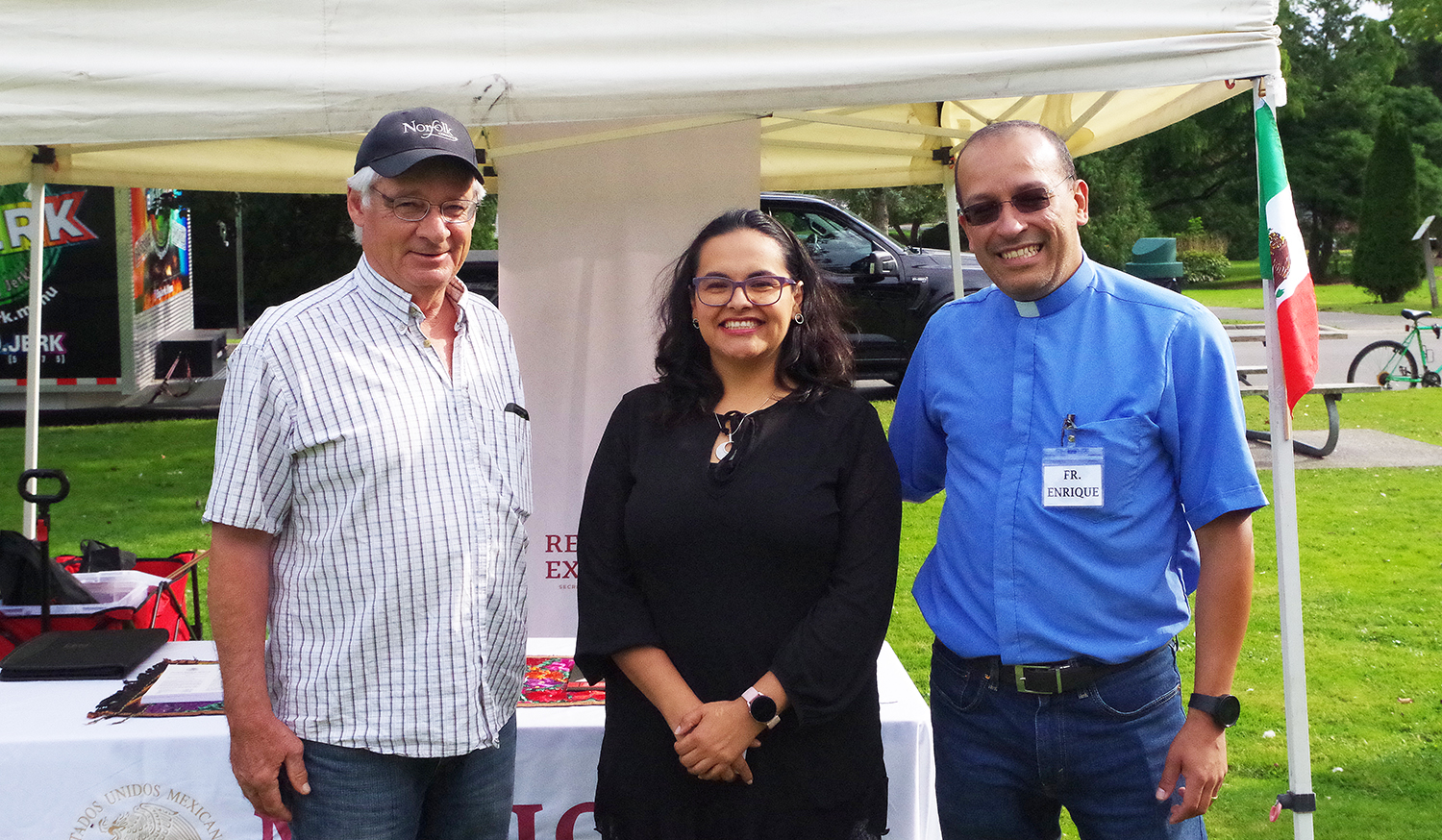 SMILES: A lot of effort in support of migrant workers hides behind these smiles. The Ministry team puts countless hours to provide not only basic necessities - food staples and warm clothing - but also to help the workers adapt to their everyday routine. Overcoming language barriers and cultural differences is difficult. The Ministry works closely with Mexican Consulate and wider local communities to provide support for workers.
Photo: Father Enrique with Cynthia Moreno, Consul of Protection at Consulate General of Mexico, and Chris Van Paassen, Norfolk County Ward 4 Councillor.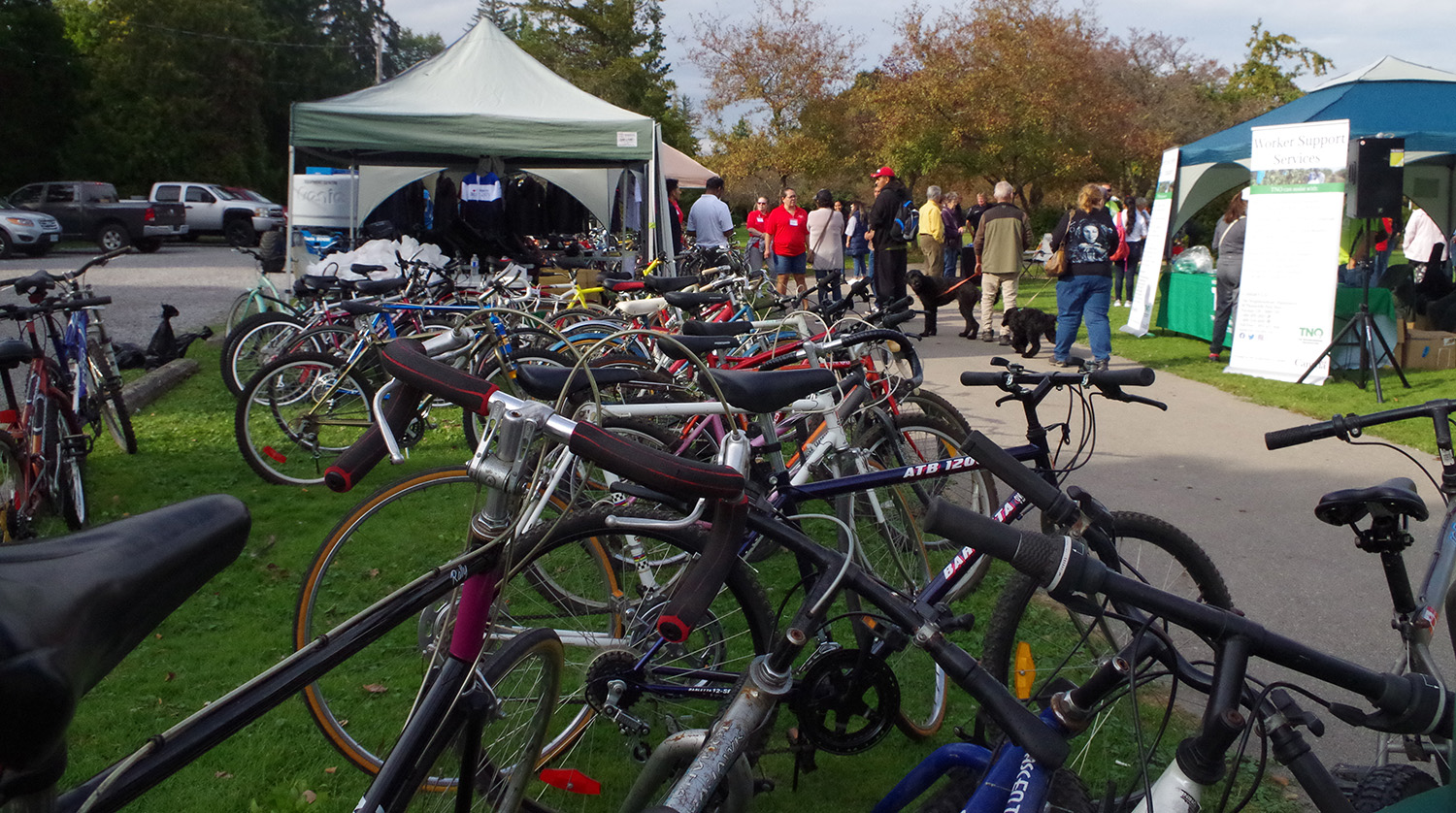 BICYCLES: "You should see smiles on their faces when they get a bike", says Fr. Enrique. One of the greatest gifts the ministry received this year was from Rev. Kevin George and his St. Aidan's, London team. They provided 160 bicycles in June for Father's Day celebration. At the Worker Appreciation Day on September 28 in Simcoe there were additional 56 bikes waiting for their new owners.