Patrick Martin was one of the four new deacons ordained on Trinity Sunday
By Rev. Patrick Martin
"As for me, I will be talking of thy worship, thy glory, thy praise, and wondrous works." (Psalm 145:5 BCP)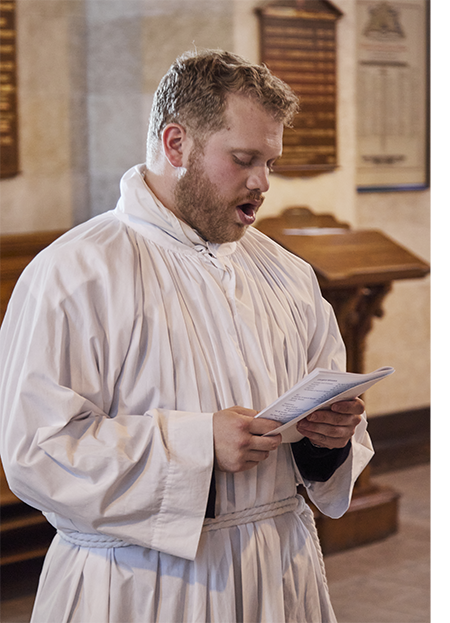 There is a song from the Shaker tradition called Simple Gifts that has helped me to come to understand my call to ordained ministry. In it they talk about turning around and around until coming to the place just right.
For me this felt like walking on a path, which, at one time, was a path towards Music education. There was something about teaching which felt intrinsically right to me.
I discovered, however, that though this was part of what I felt called to, there was still more to which I felt called. The more I walked that path, the more it seemed to feel that it was not the right path, rather an adjacent one.
I later learned the prayer from St. Augustine, "Our Heart is restless till it rests in you," which I think captures the feeling well. I had been walking with one foot on the side of the path and one in the weeds and brush that were alongside, and experiencing the restlessness that came with that.
With prayer, reflection, and some very meaningful conversations, both feet ended up on the path. This path is not without its challenges, (bowing and bending as Simple Gifts puts it) but the path that I feel called by God to walk. And for that I feel both humbled and blessed.
Simple Gifts
- A Shaker Song -
'Tis the gift to be simple, 'tis the gift to be free
'Tis the gift to come down where we ought to be,
And when we find ourselves in the place just right,
'Twill be in the valley of love and delight.
When true simplicity is gained,
To bow and to bend we shan't be ashamed,
To turn, turn will be our delight,
Till by turning, turning we come 'round right.
Rev. Patrick Martin is Assistant Curate at St.John's Tillsonburg.