Each summer after we bid farewell to our last group of campers, the staff work together to clean all our spaces, putting away supplies and equipment for next year. While this is going on our kitchen staff prepares one last meal to share. Afterwards we make our way to the chapel for one last Eucharist, where we were gifted by these words, by our chaplain, Brother John.
THIS PAST SUMMER I have had the pleasure of working as the chaplain for Camp Huron. I have been left with a heartwarming encounter with God.
"For everything there is a season and a time for everything under heaven." (Ecclesiastes 3:1-8)
At camp there is a time to make art…. And a time to put away art projects.
A time to play music and a time to stop playing.
A time for a campfire…. Campfire, WE LOVE CAMPFIRE!
And a time to go home.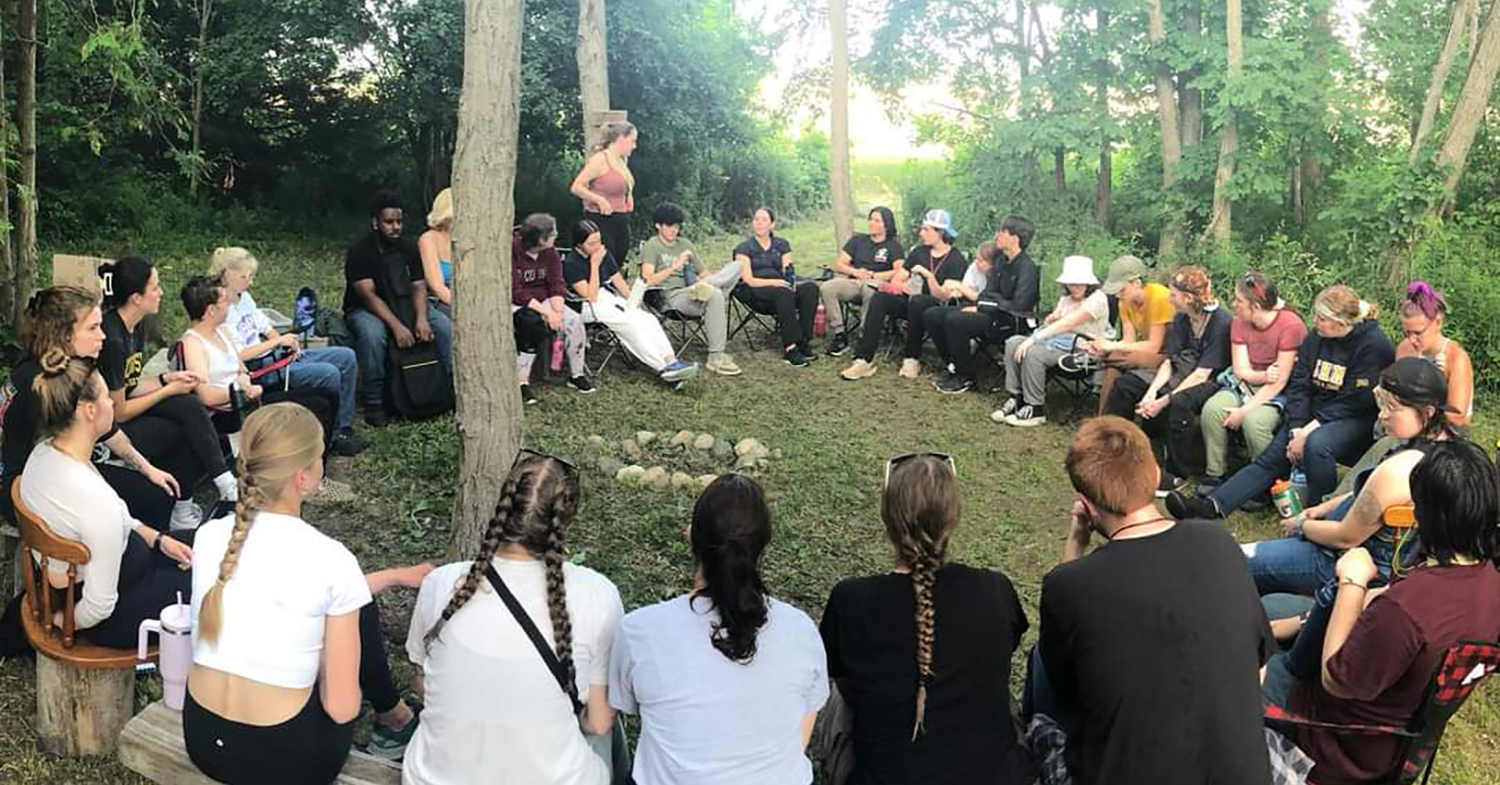 We have been through the season of camp, a time of caring for our neighbour, for Christ in our midst.
But the weather has cooled, and the seasons have changed; now it is a time to put away the paintbrushes, the CORCLS, and the chapel books.
It's the best of times, and the worst of times… because our lives await out there… and for some the time of camp has come to an end, like it has for 75 years of campers, counsellors, and camp staff.
What goodness we have had at camp over the year is now put away like so many summer clothes and archery equipment. To await another summer, in a different season.
For some of the leadership of this year, it is the last summer. The young twenty somethings have grown up here in this place. Camp was for them another home, a chosen family.
Their childhoods have been transformed in the smoke of the sacred fires. Fires made sacred by songs, prayers, and hearts open to their neighbour.
These young leaders are no longer the children they were on their first day at camp… when they were kids, scared to make new friends… shy and afraid. Now they have taught a new generation of campers and counsellors how to welcome, love and have an unbiased positive regard for people whose life experience and expression are different from their own.
The vast majority of those who have been through this process of maturation are transformed and transfigured by the people around them. Changed by the loving hearts of those whose hearts and minds opened to their neighbour.
I have witnessed these changed hearts and minds. I say this to you in all seriousness, I have seen Christ in their midst.
I have seen the face of my master in their hearts and in their compassionate care.
At times it was in being a supportive and nurturing person to a child who felt abandoned, included, hurt and afraid.
At other times it was in the way they helped show a child that it's ok, it's ok to care, to trust, it's ok to love or to listen.
I have seen his face when hard choices and conversations were needed. Hard conversations needed to be had, that formed both persons, leaders in a safe place. I saw Christ when they said no, to someone whose lack of boundaries stole freedom and voice from someone else. Teaching each other agency, consent, and charity.
Lastly, I have seen the face of Christ in their tiredness, weakness, and exhaustion, pushing themselves to exceed their self-imposed limits; and learning their inner resilience. Camp Huron I have seen Christ in you. Not perfectly, but through a mirror darkly.
As a Franciscan brother I cannot have asked for a greater gift. St Francis saw Christ in the leper, and I have seen him in you.
For such a profound gift, all I can say is thank you…
Thank you for letting me into your lives… Thank you for showing me what it is to have a camp family…
Even if they are not all Anglican or even Christian, I have seen Christ, the image of the divine, in their human compassion.
For those who will not be returning I pray that God repays them 100-fold for the love, care and compassion you have shown this summer!
Continue to be your genuine selves, out into the world… into the unsafe places… be a light for those not given the grace of camp.
Because then we will all know that God's goodness is more than a children's story…
It is real… because God lives in you.
Brother John, Chaplain, Summer 2023