By Michelle Hauser
THE ANGLICAN FOUNDATION OF CANADA (AFC) has launched a Say Yes! to Kids (SYTK) communications hub to facilitate the sharing of knowledge about the variety of SYTK programs across Canada that are helping to grow a brighter future for young people.
"Since it was launched in 2021, SYTK has provided over $625,000 to more than 100 unique beneficiaries and fundraising partners in support of youth-focused ministry and outreach from coast to coast to coast," says Diane Dance, AFC's Representative for the Diocese of Huron. "This includes nearly $40,000 in grants and partnership funding right here in the Diocese of Huron."
Even though one of the 2021 projects was unable to move forward, Dance says "Huron churches have been leaders in this national youth-focused movement. It is a great encouragement to begin to see their efforts bearing fruit in our Diocese."
St. James Anglican Church, Cambridge
Among the Huron projects featured on the SYTK hub is St. James Anglican Church, Cambridge and their innovative Mental Health and Resiliency Program.
This past spring, using a skilled team of social workers, volunteer teachers from the congregation, and professional facilitators, St. James offered four highly responsive workshops, at no cost, to vulnerable young people. These included: Movement Therapy, Therapeutic Art, Trauma Informed Yoga, and Mental Health Support and Skills.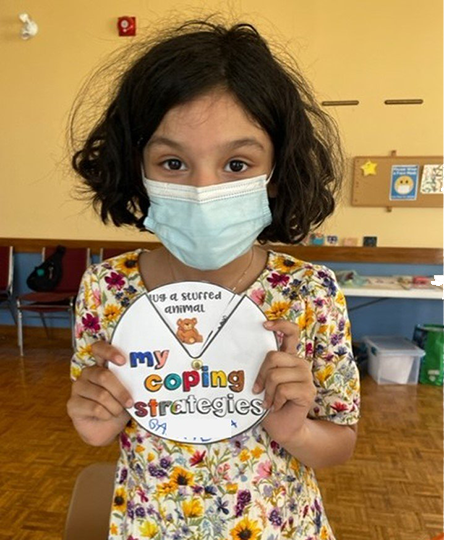 "Our program created an opportunity for young people to come together in person, and experience social connection, learn and have fun," says the Rev. Canon Linda Nixon, Incumbent. "The brainchild of Sandra Clarke, the workshops also gave them new skills and empowered them to cope with big feelings and challenges, in ways that supported their mental and physical health."
Sandra Clarke the coordinator of the program, explained that during the first week of the program many children were nervous, but with steady support from volunteers, staff, and peers, most seemed happy and relaxed by the end of the first session.
"We were excited to see the growth in each child as they attended each week. By the end of the program the majority of children left with smiles on their faces and some even had budding friendships that we hope continued after the program's completion."
Many of children in the program were struggling with ADHD, anxiety, depression, family illness, divorce and understanding their gender and sexual identity. Sandra Clarke says, "Our team did their best to create a non – judgmental environment where all the children could benefit, feel included and supported in their choices".
"After a long and strange period of social isolation due to COVID-19 it was heartwarming to see children come together and try new things," says Sandi Sherk, Program Volunteer. "The program came at the right time. It was a joy to participate as a volunteer and see everyone grow."
St. George's London – Music from Around the World
While mental health was the SYTK project focus at St. James, St. George's London is proving that youth and music are a combination that can't be beat thanks to their Music from Around the World program.
Last spring, AFC's 2021 SYTK grant enabled St. George's to acquire a percussion kit that included cajons, bongos, claves, tambourines, maracas, a cowbell, and Latin percussion eggs.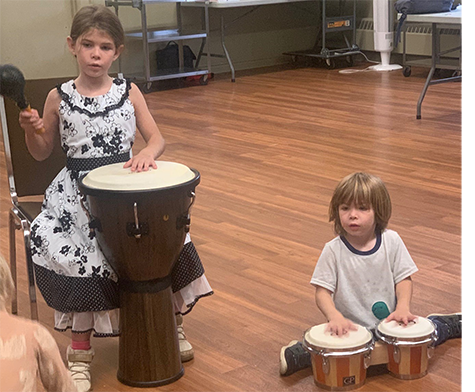 "We asked the youth what kind of a program they wanted funding for," says the Rev. Aidan Armstrong, Incumbent, "and the Music from Around the World project is what they came back with."
The versatile instruments have given rise to fun, family-focused jam sessions following the monthly community lunch the church is now hosting on Sundays after the 10:30 am worship service.
"It's noisy in the best way possible," says Emily Fontana, Child and Youth Minister, who is joined by the church's music Director, Graham Holmes, in the ongoing development of the program.
Fontana says that in these early days of jamming together the kids are mainly just learning to keep the beat.
"Many of them are already good singers but percussion has really opened their eyes to how music works—the different places to hit the drums to make different sounds and using hands versus sticks."
Fontana says percussion was a good starting point because the instruments, thanks to their accessibility and shareability, are ideal for group participation and experimentation.
"Right now, we are going by instinct and being highly responsive to where the kids want to go with this. My job is to make a safe happy space where these children can grow and achieve things. Whatever is good for them is good for me and I'm ecstatic to be part of it."
The church's nascent percussion group is excited about the possibility of bringing their instruments into the worship service. "I think the congregation will love it when they eventually do that," says Fontana. "They love to see the kids succeed."
St. John in the Wilderness, Bright's Grove
About an hour down the road from St. George's, the beat of the drums gives way to the steady hum of the hive at St. John in the Wilderness, Bright's Grove, Ontario.
This is where thinking "outside the box" in response to AFC's Say Yes! to Kids RFP led church leaders to channel their efforts on what was already in the box: about 50,000 buzzing bees.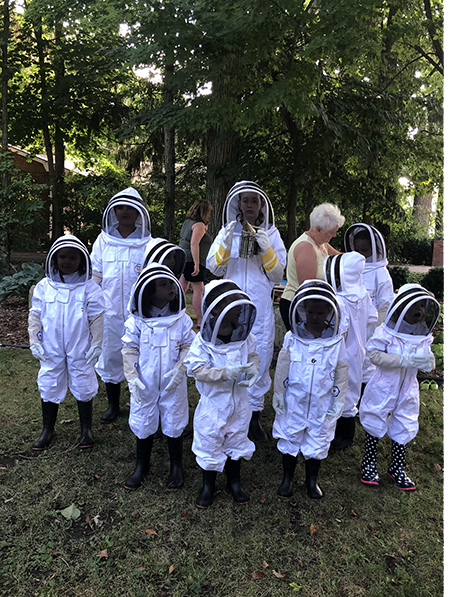 "It kind of happened organically," says Haley Walker, a long-time parishioner who became a beekeeper in 2018 under the guidance of fellow parishioner Doug Winch. Both were instrumental in the Wilderness Pollinator Garden and Beehives project for which St. John's received a $5,000 grant from the Anglican Foundation of Canada's (AFC) 2020 Climate Care Request for Proposals (RFP).
"When we brought the bees to the church, everyone in the neighbourhood loved them, and kids were really interested in them," says Walker.
After having seen another local group conducting beehive tours for children, she began wondering about creating a Young Beekeepers initiative. At the same time, Walker says St. John's ACW group had been looking for ideas for Vacation Bible School (VBS) that might help encourage people in the community to come back.
"There aren't many churches offering a beekeeper-themed VBS."
When AFC's 2021 Say Yes! to Kids RFP came along, the church applied, and it proved to be the perfect funding opportunity at the perfect time.
"We did one full beekeeping-themed day as part of our VBS this past August, and we will try to do several more next year," says Walker. More than a dozen kids, ages 3 to 14, turned out to learn, ask questions, explore, and sample some of the fruits of the bees' labours.
"We had a honey tasting," says Walker, "and the kids learned that the taste of honey varies depending on the flowers it comes from."
After crafts and games to "get the sillies out" Walker says the kids donned their bee suits—which was itself hugely exciting for them—and bravely went inside the hive.
"Everyone did well when they were in the hive," explains Walker. "We spent about an hour inside and all the kids were able to collect a little honey from the hive. We were able to show them the pupas and the worker bees and the flying bees. We didn't find the queen bee—she's one in ten thousand so it's hard to find the queen bee."
Walker says parents were happy to see their kids having fun and loved the program for bridging learning, science, and talking about God's creation. Walker admits that even ten years ago the congregation might not have had the confidence for this kind of innovative program, especially with young people.
"It has been a journey getting us to where we are. But I've found that once we say yes to one thing, it has been yes, yes, yes, ever since then."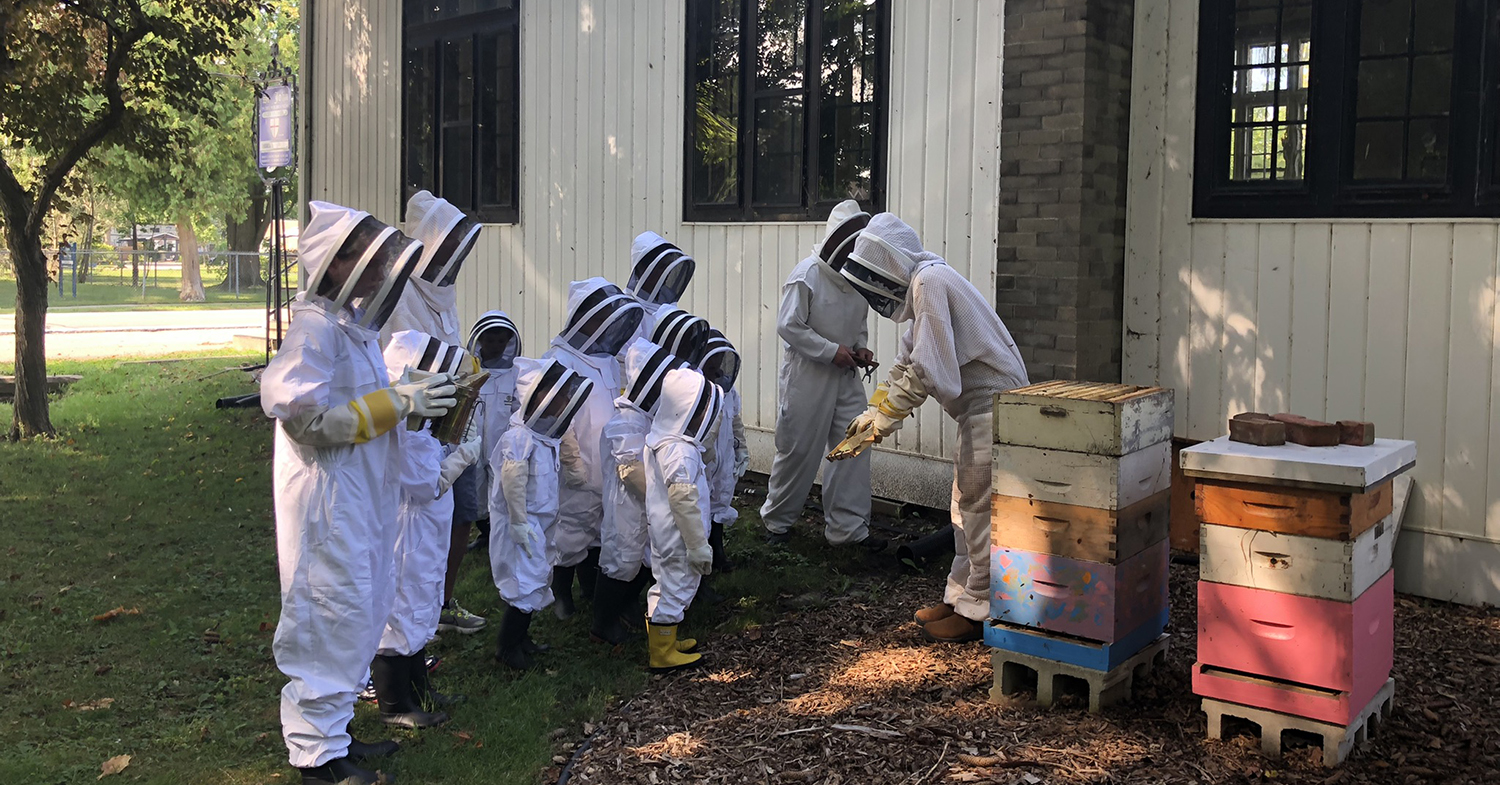 New SYTK hub will grow church's capacity to imagine more
These are just some of the SYTK projects in the Diocese of Huron and Diane Dance says everyone at AFC is celebrating the community-mindedness and entrepreneurship they showcase.
"The challenge now is to find a way to share our and other good news stories across the Canadian church."
Dance hopes that by centralizing SYTK ministry profiles in an online communications hub they will be easily accessible to those who want to develop a local project but might not know where to begin.
As grant reports continue to arrive, AFC will keep adding ministry profiles to the hub.
"Soon enough we will have an incredible online catalogue of youth-focused programs from across the country that will grow our capacity to imagine more, both individually in our own locations, and collectively, across the Canadian church," says Dance. "At the very least we will have one very hopeful place to direct those who are wondering Where are the children and youth in the church today?"
Link to the SYTK Communications Hub here: www.anglicanfoundation.org/sytk.
Michelle Hauser is the AFC Development & Communications Consultant.