By Michelle Hauser
A popular monthly pizza lunch outreach to high school students in Arva, Ontario—serving approx. 400 students before the March 2020 COVID-19 lockdown—has gradually taken on a mental health focus.
"Between October 2019 and February 2020, there were several prominent suicides in our community," says Rev. Wendy Mencel, Incumbent at St. John the Divine, in the Diocese of Huron, "and we realized that teen mental health needed to be a priority for us."
The parish set about refining its mission and service to local youth, which included consulting with a psychologist from London Health Sciences Centre and a local representative from the Canadian Mental Health Association.
"Our hope is that our church can be a safe place where these students can develop positive relationships, have a break from the stresses of school, and be comfortable with asking questions," says Mencel, emphasizing the "no-strings-attached" nature of the program.
"We are not here to impose our religious views but to support students who are struggling. Conversations about mental health, faith, and spirituality naturally arise in response to the questions they ask us."
St. John the Divine received a $5,000 grant through the Anglican Foundation of Canada's (AFC) Say Yes! to Kids 2021 Request for Proposals (RFP).
"The goals of building resilience and improving mental health featured prominently in AFC's fall 2021 RFP," says Dr. Scott Brubacher, AFC's Executive Director. "Twenty recipients received nearly $90,000, which represented almost twenty percent of the total RFP funding. We were so pleased to be able to support this creative and compassionate program along with 7 other projects in the Diocese of Huron for a total of $28,250 in RFP funding."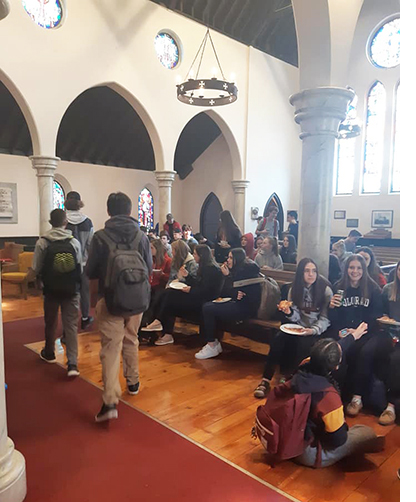 "This grant will help to get the outreach program back up and running as soon as pandemic restrictions allow," says Mencel. "Kids approach me at the grocery store and ask when we're starting again. They are very keen to reconnect."
In addition to the youth themselves spreading the word about the parish outreach through social media, Mencel says the staff at Medway High School are also very supportive.
"Partnering with the school is the most critical thing we can do," she says, adding that the strength of the relationship between the church and the school has been "a gradual but intentional process."
"Our church provided a scholarship to one of the school's international students, and during my 15 years in this community, I have always attended school events wearing my collar and have spent time talking to those who will talk to me. The launch of the pizza lunch program helped, too. Kids were comfortable coming here, and things just kind of snowballed from there."
Gradual, too, has been the congregation's buy-in for a resource-intensive outreach program that has not, and likely will not, result in increased church attendance.
"In my sermons I have honed-in on the message that we're sowing seeds, and we don't know where God wants them to land", says Mencel. Faithful champions for the program have emerged, she adds: "Many parishioners volunteer, and many more share in that sense of pride that comes from seeing the kind of outreach we are doing."
St. John the Divine serves a rural area north of London, Ontario, where over eighty-five percent of high school students are bused from outlying communities.
"This makes outreach to teens after school hours difficult," says Mencel. "Breaking bread with these students during their lunch—and making ourselves available to talk to them and answer their questions—is an incredibly meaningful expression of our Christian hospitality. I am immensely proud of our congregation for doing our part to meet a need that would otherwise not be met."
Michelle Hauser is the AFC Development & Communications Consultant.
(Photo: The way it used to be at St. John the Divine, Arva - April 2019)