SYNOD 2022 - WHERE WE ARE
By Bishop Todd Townshend
Each annual Synod is, among other things, like a snapshot in time of where we are together along the road with Christ. It's good to quickly take stock and be honest and clear with one another about how we are doing.
I've come up with five ways to speak about this moment in time, acknowledging that this just brushes the surface of the many realities of life today. I'll speak briefly to each of these.
Where are we?
We are (1) in An Ambivalent Moment. (2) Seeking a Faithful Equilibrium. (3) in A Changing Culture. (4) undergoing Significant Leadership Change. (5) finally, able to give an update on Financial Resources for Ministry.
1. An Ambivalent Moment
At the same time, we are experiencing grief, trauma, isolation and we are receiving glimpses of joy, healing, and renewed community. Both, at the same time. I use the work "ambivalent" here not to simply mean "mixed feelings", but from its roots: ambi (both), and valere (to be strong). We are experiencing grief, trauma, and isolation AND joy, healing, and community both at the same time. Sometimes, strongly at the same time.
Christians tend to see that this is possible, necessary even, because we believe that Christ is both fully human and fully divine... Jesus is both present and absent... and so on.
We are even "both, at the same time" in this meeting. For the last two Synods, we have been online, mostly. Here we are, half-way back, with some of you in the room and some of you online. This is progress! This has allowed most of us to participate and it has allowed the church's work to continue. Thanks be to God, and to all those who are moving levers, touching buttons, and plugging in devices to make it happen, thank you!
But the last two years has taken its toll on all of us. There is a hidden exhaustion that has now surfaced in most of us over the past while. Wellness continues to be a concern and a priority for me when I see the massive effort that all of you have made and are making. I am grateful to everything you've all done to get your communities through to this day. May God bless you.
2. Seeking Faithful Equilibrium
All systems "want" to go back to find equilibrium. – even if it didn't work. We do need some kinds of equilibrium, balance, but which ones? In some quarter this has been expressed at the desire to "get back to normal". Yet, "normal" was not working well for many.
As we seek a new and faithful equilibrium, we can be asking questions like: Who does this favour? Who does it calm? Who does it harm? Who does it serve? This requires listening and learning. It requires holding off on some "return to normal" impulses, to leave the creative tensions "in play" for a while. We are seeking a faithful equilibrium.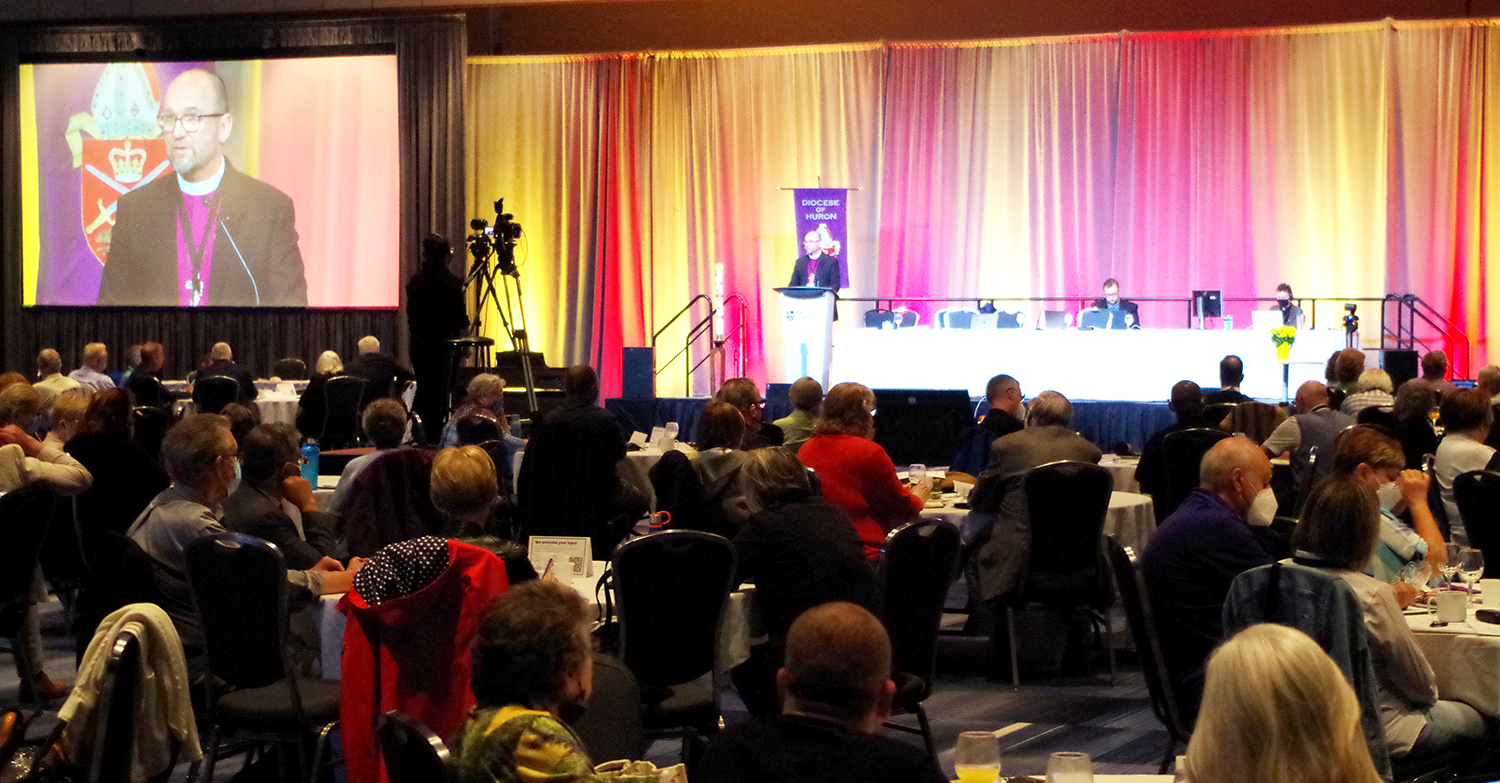 3. A Changing Culture
Here, when trying to make change, or to be more strategic, we remember Drucker's famous reminder, "culture eats strategy for breakfast." I think this is very important. The diocese of Huron has a culture, is a culture. You and I are part of it, and it is up to us (as the "incorporated body"—legally, and theologically the enfleshed body of Christ in this time and place) to make sure that our organizational culture is faithful and healthy.
Culture is simply the ideas, values, customs, patterns, and social behaviour of a particular people or society. It's our habits, it's our automatic ways of being, and it seems like the most natural thing in the world—unless you've come from another culture. As I said last year, part of the reason we've been able to be resilient in the pandemic is that part of our culture is very healthy and good. It serves us well. Parts of it do not serve us well. Culture is something you have to think through and work on! Therefore, we have been experimenting with some things, trying them differently, assessing them to see if it's better. If it is, great, we keep going. If it's not, try something else. This creates some discomfort and some conflict, but we can deal with that, in love.
Specifically, we are having a close look at how to bring new life to: Diocesan Council, the committee structures, vocational discernment and formation, Archdeaconries, and the ways in which we exercise and share ministry.
4. Significant Leadership Change
As you are seeing, new ways are being tried in some of these areas. For example, Archdeacons. I am very grateful to the outgoing territorial Archdeacons, Kim Van Allen, Janet Griffith Clarke, and Bishop Barry Clarke, and to Archdeacon Perry Chuipka in Congregational Development, for the wonderful and sacrificial gifts they have given to us—to me and to their areas of work. I also want to thank Archdeacon Kristen Aikman for taking on a new focus in the area of Life-Long Learning and Vocational Development. Archdeacon Rosalyn Elm will continue in the Reconciliation and Indigenous Ministry work, and Archdeacon Tanya Phibbs will continue to serve as Archdeacon of Huron.
I thank God for the incoming territorial Archdeacons, Jane Humphreys, Sam Thomas, Megan Collings-Moore, and Osita Oluigbo, who will begin a new and better-supported way of working, for a three year trial.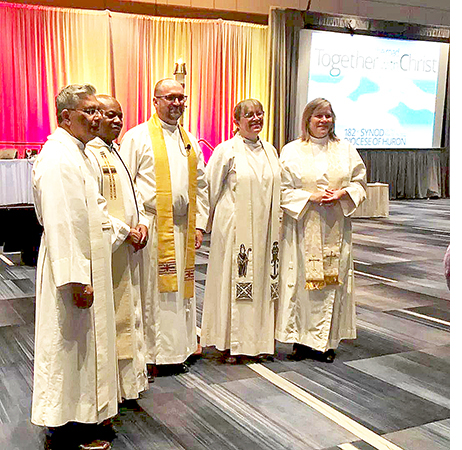 Diocesan Council has the authority to make final decision about the names and boundaries of Deaneries and Archdeaconries so those have been temporarily and vaguely named as "north, south, east, and west", for now. I will be recommending that the Deanery boundaries stay much the same as they are now, but there are few changes needed that will require more consultation with the people they most effect. That will happen between now and June 17, when Diocesan Council will meet. I'd also like to recommend that, when we talk about what names we'd like to give to the new Archdeaconries, we consider the features of the land itself, and/or to consult with those who are Indigenous to this land—to learn what names may better resonate with where we actually are.
In addition to new Archdeacons, there will be some new Canons and some new Committee Chair-people named over the coming month or two, to help lead our common work.
Finally, the primary structure of the church is the assembly of all the baptised. Here, is where the Spirit has the greatest, and perhaps most unrealized, potential. I am grateful for the leadership of the youth, as well. Children, teens, and young adults are vital to our decision-making and our spiritual growth. Jesus knows this, and so do we. So, we will practice this with more intention over the months and years to come.
There is also significant change happening in the Church House offices, here in London. Last year I said that we'd be looking for a more coordinated, complementary, collaborative approach to our work in serving the Diocese. Since then, retirements, staffing changeovers, and pandemic recovery work has strained the system, even while we are trying to replace aging systems, and this has created huge challenges.
It has amounted to a total overhaul, a "renovation". I don't know how many of you have tried to renovate your home while living in it, but that's what it feels like sometimes. We are getting there, but it's been messy and dusty. There has been plenty of frustration, anxiety, and tension. I know that these feeling have been felt by all of you who relate to Church House in one way or another. I thank you for your patience and for letting us know what is working, and what is not.
Special thanks to about a half dozen people who have been sent directly from the merciful hand of God to help. Mark Charton, Stephen McClatchie, Lloyd Symington, Diana Boland, and Evelyn Beeby have been such people. Helen Booth, Tanya Phibbs, and other Church House folk have steadied the ship many times. I'd like to thank Hanna Goschy, formerly the General Synod Treasurer for her work helping us for several months as consultant, and to Mark Charlton who is now serving as Interim Director of Finance as our search for a new Director of Finance continues. There are great people on the job.
Mark puts it very clearly, and I agree with this completely, "We are committed to uncovering issues, correcting errors, and taking steps to avoid recurrences. These are highly manual efforts yet essential to restoring confidence and reliability. To establish efficient and simple process, we need to rethink how to let automated processes flow freely, monitor that flow, and determine the proper point to intervene with manual 'fixes'." Please pray for all who serve you at Church House.
I'd also like to ask your prayers for Archdeacon Tanya Phibbs, Executive Archdeacon, who I will be appointing as Acting Secretary-Treasurer beginning June 30, 2022 until the next Synod. Section 31 of our Constitutions provides that, "If any vacancy shall occur by death, removal or resignation of the Secretary-Treasurer, the Bishop shall appoint a successor to act until the next meeting of Synod." Our outgoing Secretary-Treasurer, Canon Paul Rathbone, had given June 30th, 2022 as his resignation date and, so on that date there is a vacancy, and the Acting Secretary-Treasurer appointment will become effective.
I thank Archdeacon Tanya for taking on this role. It will give us a very knowledgeable and competent person in the office of Secretary-Treasurer and it will allow a period of time for us to finalize our search for the Director of Finance, to assess the particular needs of the organization after that, and to redistribute the workload to make it possible for everyone. Early in 2023, I expect that we will have a clearer idea of how these essential roles will be structured, especially in the "Bishop's Office" as that work must also be intact and well-supported.
The Secretary-Treasurer is an important role in day to operations but it is also an important ministry within our synodical governance structures. In the past, clergy have served in this role and the detailed financial matters have been delegated to an accounting specialist (like a Director of Finance) while the work of the Incorporated Synod was led by the Secretary of Synod. We may end up dividing these roles, we may keep them together, we may decide to do something else, but we need to make the positions serve the higher purposes of the church and this arrangement will give us time to be confident of our path forward.
5. Financial Resources for Ministry
The Finance Report follows immediately, so I will be brief. I have been working closely with those who steward the diocesan finances. As mentioned above, there is a renovation of systems going on—one that is appropriately done on a regular basis. Yet, we will be OK. This is due to the faithful generosity of Anglicans past and present. We have weathered much more threatening time than this, financially speaking. As a diocese, we will be OK.
But there are three things to remember. We only have resources from God because God is generous. Every breath is a gift. Second, we only have church resources because Anglican are generous, in response to God. And, third, not everyone is OK. Not every church community, and not every person who we seek to serve. Some of them are definitely not OK. Therefore, we need resources for them. They must be helped, healed, lifted up to where God wants to see them—next to Jesus the Christ—along with you and me. Only then we will all be OK, in every way.